Epic
Beyonce Knowles , Colin Farrell
- 1 hr. 42 mins.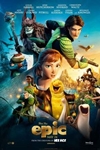 "Epic" tells the story of an ongoing battle deep in the forest between the forces of good and the forces of evil. When a teen age girl finds herself magically transported into this secret universe, she must band together with a rag-tag team of fun and whimsical characters in order to save their world... and ours.
Official Site
Trailer
---
Fast & Furious 6
Vin Diesel , Paul Walker
- 2 hr. 10 mins.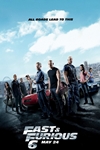 Since Dom and Brian's Rio heist toppled a kingpin's empire and left their crew with $100 million, our heroes have scattered across the globe. But their inability to return home and living forever on the lam have left their lives incomplete.
Meanwhile, Hobbs has been tracking an organization of lethally skilled mercenary drivers across 12 countries, whose mastermind is aided by a ruthless second-in-command revealed to be the love Dom thought was dead, Letty. The only way to stop the criminal outfit is to outmatch them at street level, so Hobbs asks Dom to assemble his elite team in London. Payment? Full pardons for all of them so they can return home and make their families whole again.
Official Site
Trailer
---
After Earth
Will Smith , Jaden Smith
- 1 hr. 40 mins.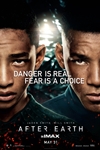 A crash landing leaves teenager Kitai Raige and his legendary father Cypher stranded on Earth, 1,000 years after cataclysmic events forced humanity's escape. With Cypher critically injured, Kitai must embark on a perilous journey to signal for help, facing uncharted terrain, evolved animal species that now rule the planet, and an unstoppable alien creature that escaped during the crash. Father and son must learn to work together and trust one another if they want any chance of returning home.
Official Site
Trailer
---
Now You See Me
Mark Ruffalo , Jesse Eisenberg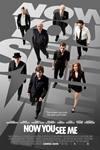 During their performances, the world's greatest illusionists known as "The Four Horsemen" pull off a series of daring heists against corrupt business leaders. The super-team of illusionists shower the stolen profits on their audiences while staying one step ahead of an elite FBI squad in a game of cat and mouse.
Official Site
Trailer
---
Internship, The
Vince Vaughn , Owen Wilson
Billy and Nick are salesmen whose careers have been torpedoed by the digital world. Trying to prove they are not obsolete, they defy the odds by talking their way into a coveted internship at Google, along with a battalion of brilliant college students. But, gaining entrance to this utopia is only half the battle. Now they must compete with a group of the nation's most elite, tech-savvy geniuses to prove that necessity really is the mother of re-invention.
Official Site
Trailer
---
Purge, The
Lena Headey , Ethan Hawke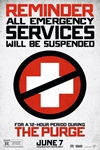 In a futuristic America plagued by crime, the government sanctions a 12-hour period once a year in which all criminal activity is legal. When an intruder breaks into the home of James Sandin and his family, they must try to survive the night without compromising their personal moral code.
Official Site
Trailer
---
This Is The End
James Franco , Jonah Hill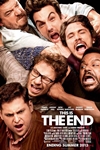 Follows six friends trapped in a house after a series of strange and catastrophic events devastate Los Angeles. As the world unravels outside, dwindling supplies and cabin fever threaten to tear apart the friendships inside. Eventually, they are forced to leave the house, facing their fate and the true meaning of friendship and redemption.
Official Site
Trailer
---
Man of Steel
Henry Cavill , Diane Lane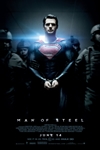 Clark Kent, a young reporter, roams the world covering news stories, but returns home to face his destiny - to become Superman.
Official Site
Trailer
---